Quartics has announced that it has developed a new high-definition video solution that can "overclock HD" for Chinese and global consumers by taking up only a fraction of the bandwidth of IP set-top boxes and Internet HDTV applications. Video experience. The new video solution is based on Kangteng Microelectronics' programmable QvuTM video enhancement solution for consumer electronics in China and around the world.
This article refers to the address: http://
High-definition content has up to five times the details, higher resolution, clearer picture quality and brighter colors than standard definition content. But a high-definition movie can be downloaded for up to three hours, while the same standard-definition movie takes only 30 minutes to download.
Achieving low-bandwidth HD video is one of the toughest issues for operators and consumers. To break through this network bottleneck, Kangteng Microelectronics has adopted a new and innovative technology to reduce the pressure on China's network architecture. Provide superior HD video quality. Kangteng Microelectronics is also considering implementing this innovative technology approach in other parts of the world, such as the US and Europe.
Safi Qureshey, Chairman and Chairman of Kangteng Microelectronics, said: "Our new low-bandwidth HD video solution is based on an important innovation from Kangteng Microelectronics' Qvu technology, which will greatly enhance our business development in the Chinese market. ."
Revolutionary Qvu video enhancement experience
Qvu technology brings a revolutionary visual experience to consumers. Whether you're watching streaming on YouTube, enjoying locally stored videos, or performing next-generation applications such as high-definition video conferencing on the web, Qvu offers a cost-effective HD experience that outperforms other similar products on the market.
Qvu is the world's first programmable video processor unit (VPU) for all original equipment manufacturers and original designer equipment platforms. Its unique patented technology greatly extends battery life and viewing time, enabling a single platform to be reset to multiple applications and solve all video processing tasks.

Key applications and benefits of Qvu include:
• Improve the viewing experience of SD and HD content • Sharper and brighter colors, brighter colors • Super smooth viewing without frame skipping • Supports all video formats for world-wide playback of video content • View 2D in 3D mode Video • Video Search • HD Remote Monitoring • Gesture Recognition, Input and Control • Multiple Views

Front access LED Display is easy to maintain and install. with magnet on modules, You can remove and replace any parts from front side, such as LED module, receiver and power supply. the advantage of this design is save space from the screen to wall. can mount directly on the wall, also save time to change the defective parts. both indoor and outdoor, pixel pitch is from P1.2 to P10mm.
Die cast aluminum panel, Linsn and Novastar control system, auto adjusted brightness sensor. with sucking tool will allow you to take out modules easily.
Indoor Rental Front Service LED Display with one single type module, can much reduce the cost for spare parts.Support front service, modules can be taken out without opening the back door,power suppliers are fixed without screws.At the bottom of cabinet, there is special design which can help to protect lamp during installation.
Or we have front open LED sign, which can be flip/open the whole screen at front. but this is only for small size about 2m high. with hydraulic design, it's easy to operate.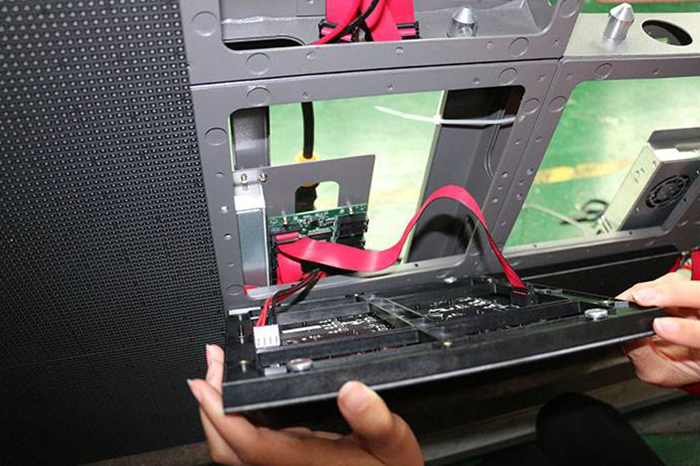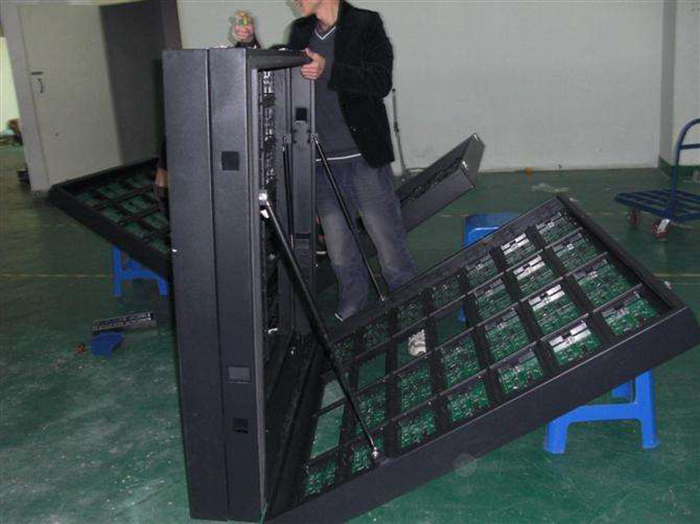 Front Service Led Display,Front Service Led Screen,Front Service Indoor Led Display,Waterproof Front Service Led Display
Shenzhen Bako Vision Technology Co., Ltd. , http://www.rentalleddisplays.com