The reporter learned from the Development Zone Management Committee that Tianjin Samsung LED Co., Ltd. was recently incorporated in the Development Zone. The company's initial investment scale is 90 million US dollars and its registered capital is 30 million US dollars. It is the first overseas production base of Samsung LED Co., Ltd.
Samsung LED Co., Ltd., which is famous for its innovation, is a company specializing in the research, development, manufacturing and other business of new electronic components (LED series products). Its products are widely used in mobile communication, flat panel TVs, liquid crystal displays, lighting equipment, etc. . It is reported that Tianjin Samsung LED Co., Ltd. will fully expand the production and application fields of LED series products. The company's development of the 21st century green industry as the theme, combined with the development of new technology-leading parts and applications, will provide high-quality parts and services to the electronics manufacturers inside and outside the Samsung Group.
The Samsung Group is Korea's largest conglomerate. It has established nearly 300 legal entities and offices in nearly 70 countries and regions, with more than 300,000 employees. Its business covers electronics, finance, machinery, and chemistry. Up to now, Samsung Group has invested in 11 production-oriented enterprises in Tianjin Development Zone, accounting for about one-third of the Group's investment in production-oriented enterprises in China, and the number of investment enterprises ranks first in all regions of China. The Samsung Group invested by Samsung Group in the development zone has a total investment of nearly 1.6 billion US dollars, which has greatly boosted the economic growth of the development zone. Tianjin Development Zone has become a significant production base of Samsung Group in China. Samsung's investment in the development zone mainly produces products in nearly 20 fields, including mobile phones, video cameras, color TVs, digital cameras, monitors, batteries, and LCD displays.
Deep pen: The rationality behind the LED heat is the rational return behind the intense debate in the LED seminar. The same LED: LED standards should be energy-saving and environmentally friendly.
1

Very solid Take-apart Reel, particularly indicated for a continuous use in time. It is
fully turned on the winding surfaces (barrel and inner flange) and on the flange ring.
The available sizes are as per DIN 46395 specifications or as indicated by the
Customer, for a normal use up to 1800 mm of flange diameter. It is supplied CE
marked, with an instruction and maintenance manual. Indicated for metallic wire.
To be used for high speed processing on a wiredrawing machine or for coil transfer.
It is supplied with the following alternative closing / dismounting options:
- central screw with a dead hole and safety lock
- central ring with a central feed-through hole and safety lock
- 3-side screws with central feed-through hole
- 4-side screws with central feed-through hole
- pneumatic operation and safety lock
- oil-pressure operation and safety lock
Available on request:
- dynamic balancing for speeds up to 50 m/s
- slots for the coil strapping in 3, 4, 6 or 8 positions
- arrangement for use with a cardboard tube
- size compatible for Z2, Z3 and Z4 coils
- false flange and adapters on the drum to reduce the traverse width
- vice for wire locking with automatic unlocking when the reel is dismounted
- cone-shaped drum
- cone-shaped drum for lifting and transferring the coil
- plastic / polyethylene / carpet / ... lining
- painting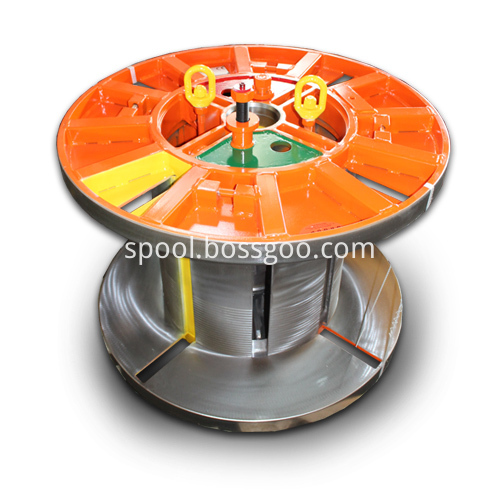 Collapsible Cable Reel, Take Up Reel, Collapsible Cable Coiler, Take-apart Reel, Screw Collapsible Reels
NINGBO BEILUN TIAOYUE MACHINE CO., LTD. , http://www.spool-manufacturer.com